TestChest®
THE COMPLETE RESPIRATORY SOLUTION
TestChest® is a high-end lung simulator that simulates the extremely complex functioning of the human lung. Developed and manufactured by the Swiss company Organis,
we offer as a cooperation partner a software solution, which with TestChest® is the complete solution for the simulation of respiratory therapy of acute and chronic disorders.
---
THE FIRST OF HIS KIND
This high-end lung simulator is the ultimate tool for anesthesiologists, intensive care physicians and nurses - both beginners and professionals benefit. Together with the AQAI SIS software, complex lung functions are also displayed simply and reliably. Because of the clear operation of the software (for example, on a tablet PC or iPad), the lecturer does not have to deal with many individual parameters, but can concentrate entirely on the participants. In this way, learning objectives are achieved reliably.
TestChest® replicates realistic lung mechanics, gas exchange, and hemodynamic responses
TestChest® simulates the breathing from normal spontaneous breathing to the ventilation of heavily diseased lungs
TestChest® is programmable to simulate in an unprecedented way the progression of lung diseases as well as the restoration process
TestChest® eliminates the need for animal experiments
---
THE COMPLETE SIMULATION EXPERIENCE
Designed to fit any training needs, the TestChest® can be combined with a full-scale simulator in just a few steps. In collaboration with the Norwegian simulator manufacturer Laerdal, we are striving to provide breathtaking and realistic patient responses in this combination.
IMPORTANT TO KNOW:
Realistic patient simulator, which can be programmed for typical lung diseases such as ALI, ARDS, COPD, etc.
Spontaneous breathing and CO2 production are integrated
A hemodynamic module with an artificial finger simulates the oxygenation and cardiopulmonary interactions.
TestChest® responds to all therapeutic interventions such as pressure support, PEEP, CPAP, FiO2 and recruitment maneuvers.
With its calibrated sensors, TestChest® serves as a reference for the examination of anesthesia respiratory devices
---
LEARNING MODULES
The AQAI SIS software enables predefined scenarios and intensively medically relevant diseases
The different learning modules:
Learning module basic and differentiated ventilation
Learning module ARDS
Learning module COPD/NIV
Learning module Weaning
Learning module COVID 19
The learning modules can be expanded with the option NIV-Ventilation and transpulmonary pressure.
---
MORE OPTIONS:
O2 finger
The O2 finger module simulates oxygen saturation and pulse amplitude. This may vary depending on the condition of the intravascular filling. Heart-lung interactions are modeled in this way.
CO2 Box
Mass flow regulator for CO2 production. Adjustable dead space, realistic capnograms and can be displayed on any CO2 monitor.
TC buffer
Hardware buffer, which increases the data flow to and from TestChest®. Recommended by AQAI!
AQAI SIS
SIS adds to TestChest®'s breathing models a comprehensive physiological model that controls circulation, metabolism, volumes, pharmacology, and more. These models make it possible to have a look at the whole patient and to treat him with medication, physiotherapy, positioning, etc.
BASIC CONTROL SOFTWARE
Controls:
Selection of preconfigured patients.
Selection of preconfigured spontaneous breaths.
Setting various parameters of the lung function (compliance, resistance, recruitment, collapse and more).
Start of a calibration process.
These features enable instant use of all advanced TestChest® features.
---
VENTILATION MONITOR
TestChest® and SIS implement a ventilation monitor in which all relevant ventilation data from spontaneous ventilation to controlled ventilation are shown. Through the precision of the TestChest® it is particularly suitable for displaying a live feedback of the manual or mechanical ventilation, independently of a respirator's monitor display. With this monitor, everyone can learn better about the subject "Ventilation": the student learns the correct handling of the respirator bag, the experienced rectifies the settings of the respirator. Everything can be realized for any lung function conceivable: non-invasively via mask and invasively via e.g. a tube, from healthy lungs to ARDS and COPD and naturally also Weaning. The ventilation monitor is integrated in the combination SIS and TestChest®.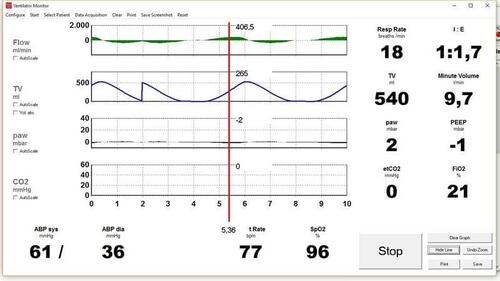 ---